Caregivers! Put on Your Oxygen Mask First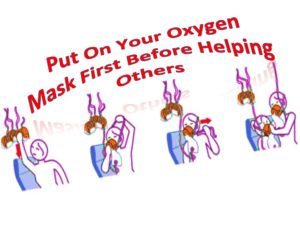 Caregiving is an important yet at times frustrating, tiring, draining and stressful activity. In August 2017, I wrote about the 4 easy ways for caregivers of persons with dementia to keep their sanity: BLAA, BLAA – Breathe, Laugh, Accept and Adapt. Time flies! 2017 is coming to an end, and 1 Jan 2018 is only one sleep away. I like to thank all caregivers out there for your commitment and hard work in 2017, in addition I encourage all of you to take time, 5 minutes or more if you are able to spare, to set self-care goals for yourself in 2018 so that you can continue to provide the best care to your loved ones. What did you just suggested, Susan? Self-care? Are you crazy? You do not know the lives of caregivers! I don't have time for myself at this point. Caring for myself is not important; my priority right now is to take care of my loved one(s) with dementia. How can I be so selfish to think of myself and my personal wellbeing when my loved one is suffering? Nope, setting aside time for self-care is not a selfish act. In fact, caring for yourself is caring for your loved one.
Caregiving can take a toll on your health and wellbeing if you do not actively engage in regular self-care. According to researches done on the effects of caregiving and health and well-being, the combination of physical demands of caregiving, loss, and prolonged stress not only puts one at risk for health problems, but also earlier deaths. To add on, biological vulnerabilities with increasing age put caregivers aged between 66 and 96 at a 63% higher risk of dying relative to their peers if they are experiencing emotional or mental strain from caregiving. In general, caregivers have been found to be more likely to suffer from at least one chronic diseases including high blood cholesterol, high blood pressure, and diabetes, coupled with a tendency of being overweight. Caregivers also have a higher risk for depression, in fact WebMD states that about 40-70% of caregivers have depressive symptoms.
Do you remember the old familiar air travel message about oxygen mask?
"In the event of a decompression, an oxygen mask will automatically appear in front of you. To start the flow of oxygen, pull the mask towards you. Place it firmly over your nose and mouth, secure the elastic band behind your head, and breathe normally… If you are travelling with a child or someone who requires assistance, Secure Your Mask First, BEFORE Assisting The Other Person."

Picture Source: JetStar Airlines
Have you ever wonder why is there such a rule?  Because you will not be able to help anyone else with their oxygen mask if you are dead.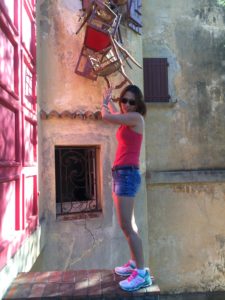 I have been embracing this as one of my guiding principles in life since becoming a parent. It is such an important metaphor. We have been running around taking care of everything and everyone else except ourselves, and if through not taking care of ourselves, we can experience fatigue, stress, reduced mental effectiveness, burnout, health issues, (and even death), who will be there to give care to our loved ones then? Having been practising mindfulness since my teens but I stopped as a result of the increasing demands of parenting and juggling multiple with little support. Back then, I thought little of that decision, didn't think that I was harming myself and my loved ones. Unknowingly, I carried with me and accumulated increasing stress and emotional strain year after year. Then, in 2010, fatigue and burnout from juggling multiple roles in life finally hit me such that I would purposely slow down my steps as I jaywalked across the road. Imagine what will happen to my loved ones whom I was providing care for as I got into a road traffic accident! That thought finally woke me up. "OMG, am I suffering from depression?", I asked myself. Not wanting to 'run out of oxygen', I got my act together and decided to get help. I consulted a psychiatrist friend who told me that my condition was "not serious enough to be diagnose as clinical depression". I was suffering from severe burnout and depressive episode due to the lack of self-care. Alas, that was how I really started embracing self-care as one of my guiding principles in life through my personal experience and realisation. I went back to my regular practice of mindfulness and have been making time for laughter, fun and enjoyment amidst all the buzz and last-minute issues & challenges life throws me. Yes, not caring for yourself is a selfish act because you may eventually end up being unable to continue with your caregiving responsibilities and be of no use to your loved one(s) with dementia if you 'run out of oxygen' and you both may 'die'.
As you enter 2018, make time regularly to put on your oxygen mask first. Making sure that you are well and healthy so that you are able to continue to provide care to the best of your ability is YOUR Responsibility. Start with:
Finding out your perceived stress level using Dr Sheldon Cohen Perceived Stress Scale. Click here.
Doing the items from the following checklist in addition to the BLAA BLAA mentioned in my Aug 2017 post.  To print out the infographic as a reminder, click here.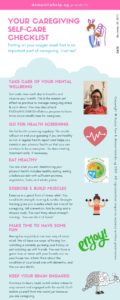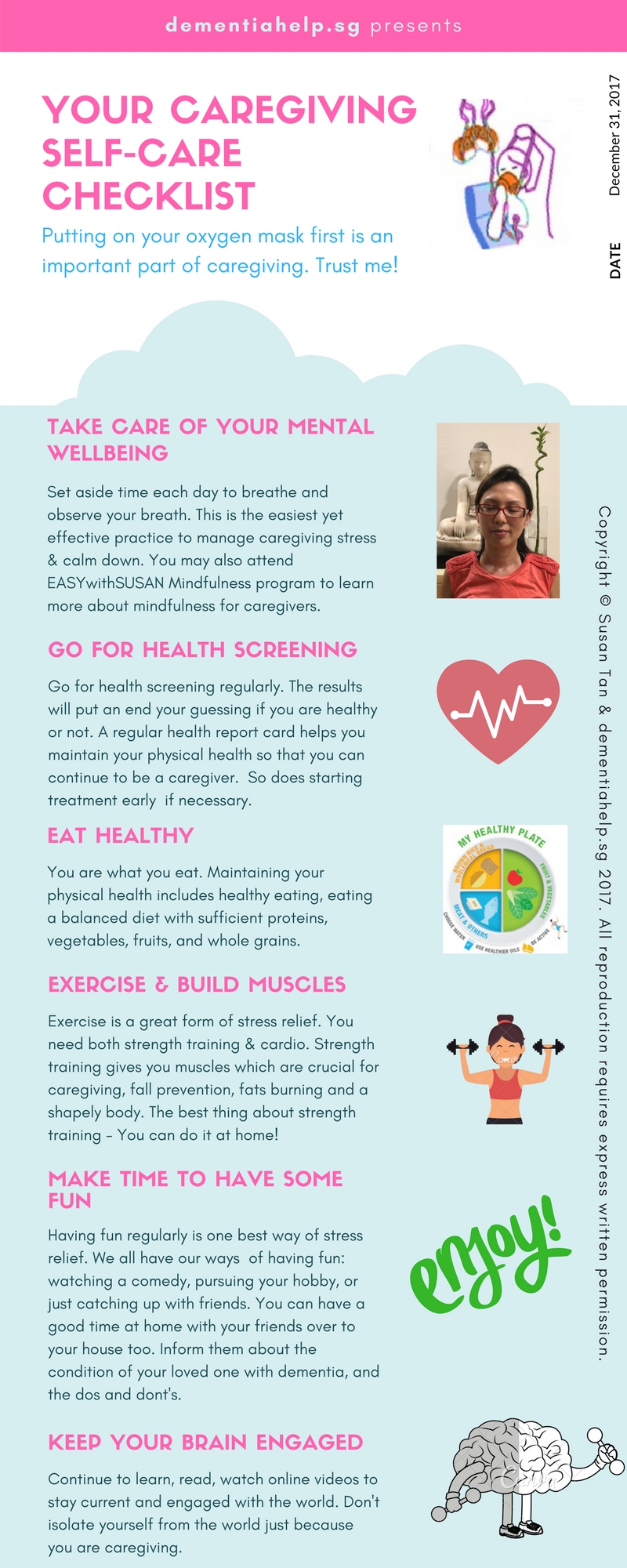 ☐ Take care of your mental wellbeing
☐ Go for health screening
☐ Eat healthy
☐ Exercise & build muscles
☐ Make time to have some fun
☐ Keep your brain engaged
References:
Cohen, S., Kamarck, T., Mermelstein, R. (1983). A global measure of perceived stress. Journal of Health and Social Behavior, 24, 385-396
Schulz R, Beach SR. Caregiving as a Risk Factor for Mortality: The Caregiver Health Effects Study. Journal of the American Medical Association; December 15, 1999; Vol. 282, No. 23. 
https://www.webmd.com/healthy-aging/caregiving-depression#1 accessed on 30 Dec 2017
Chan, A., Malhotra, C., Malhotra, R., Rush, A. J., Østbye, T. Health Impacts of Caregiving for Older Adults With Functional Limitations: Results From the Singapore Survey on Informal Caregiving. Journal of Aging and Health; Vol 25, Issue 6, pp. 998 – 1012.
https://www.caregiver.org/taking-care-you-self-care-family-caregivers accessed on 30 Dec 2017
https://airodyssey.net/reference/inflight/ accessed on 30 Dec 2017
---